I thought I would share these lunar eclipse charged wands that I found online that I'm so excited to add to my sacred items on my shrine and use for clearing my space and myself.  They were created and charged during the recent lunar eclipse and there are 10..well now 9 available (here is the listing for one pictured below https://www.ebay.com/itm/WOLF-MOON-LUNAR-ECLIPSED-CHARGED-MAGICK-WITCHES-WAND-deer-antler-crystal-pyrite/323660370816). You may want to add one to your crystal or clearing tool collection.  They are made by an artisan in Texas I bought some beautiful crystal necklaces from a couple of years ago who uses electroforming to create a pendant or in this case create a crystal wand from an antler or branch.  I personally will use this for clearing and keep it on my shrine/altar.  The smaller antlers and branches she uses are found on her property in Texas and larger ones are "reclaimed" (we wouldn't want deer to be harmed). I have absolutely no affiliation with the seller but thought they were quite special.  My experiences with the seller have been very positive (you can check her feedback to see what others have experienced).  She does have other crystal wands available as well that were not created on the night of the eclipse, but are still very special.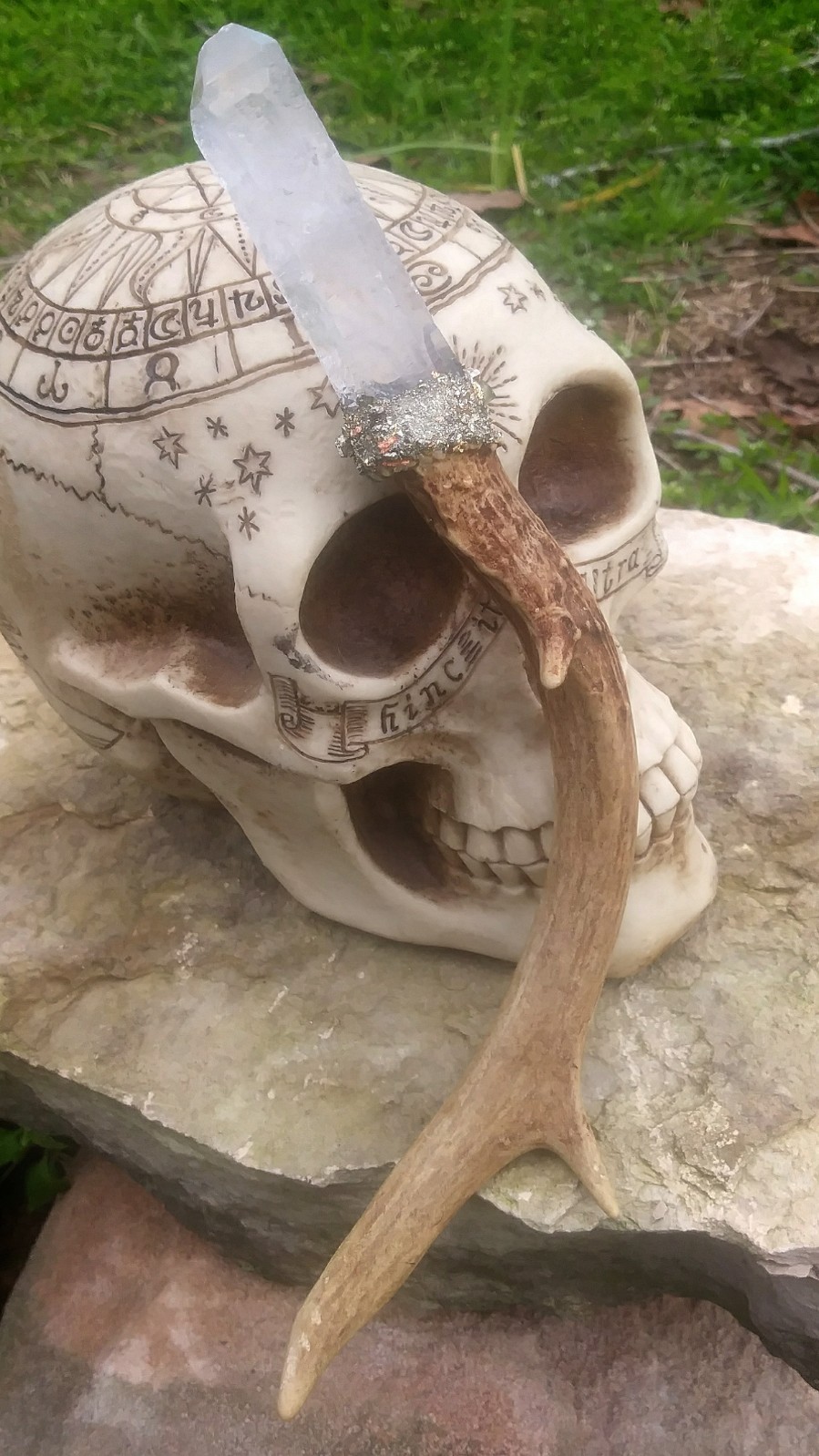 Alternatively, I thought that this might also inspire you to want to go out in your favorite forest that you have a connection to and collect a branch and create your own with a glue gun and some decorative ribbon, feathers you find in your forest, some jute twine.  Let your creativity flow.  You could also use a synthetic antler.
Clearing elements from nature are so powerful and a great way to connect with the earth and draw on her energy.  When we create clearing tools from a forest we visit frequently and have a connection to, it's even more powerful.
You would want to clear any negative energy from the wand, asking your guides and angels and the Universe to help, using Reiki symbols or energy, and/or smudging with incense or sage. Alternatively, the next time there is a full moon you can rest it in a window sill with the intention that it be cleared and charged with celestial energy. Then you can ask the wand to assist you in clearing your energy and your space.  Then you could clear yourself much like you would with a feather if you were smudging.  Similarly, you could walk around your house starting in a eastern corner and moving around each room in a clockwise direction and use the wand much like a feather to clear the energy.   You may find this is more powerful than using a feather or smudge. I always encourage when clearing to ask for negative energy to be cleared and then ask for what you would like your energy or space to be filled with (so the focus is on energy you would like to attract and experience rather than coming from a defensive or fearful place).
Happy clearing!